Provinsi Aceh telah siap menerima wisatawan di tahun 2019. Kesiapan ini dibuktikan dengan diluncurkannya 100 Calender of Event Aceh 2019. Pelucuran Calendar of Event (COE) 2019 ini diadakan di Gedung Sapta Pesona Kementerian Pariwisata Jakarta, pada Jumat malam, 22 Maret 2019.
Dari 100 event tersebut, 3 diantaranya masuk dalam daftar 100 Calendar of Event Wonderful Indonesia 2019. Ketiga event tersebut adalah Aceh Culinary Festival di Banda Aceh pada tanggal 5-7 Juli 2019, Saman Gayo Festival pada tanggal 18-19 Agustus 2019 di Gayo Luwes dan Aceh International Diving Festival di Sabang pada tanggal 6-7 Oktober 2019.
Nova Iriansyah, Plt.Gubernur Aceh menjelaskan bahwa Ac eh telah siap menerima wisatawan mancanegara, untuk itu perlu tambahan akses penerbangan dari luar Indonesia yang langsung ke Aceh. " Saya mohon dibuka jalur penerbangan langsung, terutama dari SIngapura, Langkawi Malaysia dan Phuket Thailand, baik ke Banda Aceh maupun Sabang, " Ujar Nova Iriansyah, " Pulau Sabang pun telah siap menjadi pelabuhan internasional menerima kedatangan kapal-kapal pesiar ".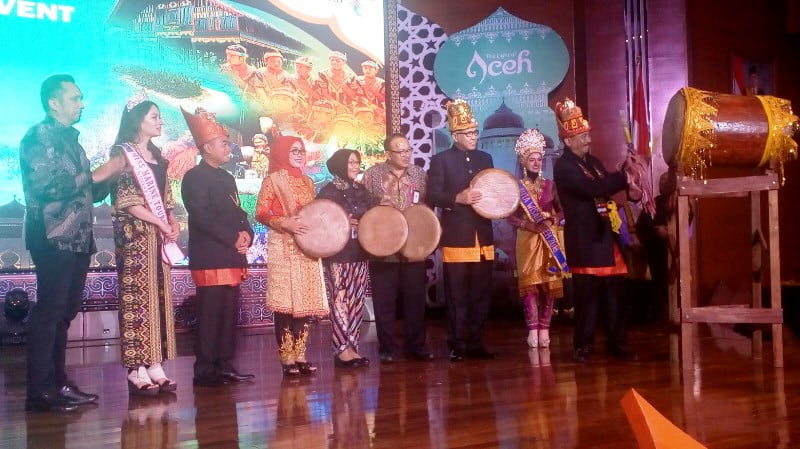 Menteri Pariwisata Arief Yahya mengungkapkan bahwa Aceh potensi wisatanya sudah tidak diragukan lagi, terutama alam dan budayanya. Aceh sudah kuat sebagai destinasi wisata halal dunia. Tinggal aksesibilitas dan amenitas yang perlu diperkuat.
" Keunggulan Aceh dekat dengan pasar internasional, dekat dengan Jepang, China, bahkan India. Kita bisa menarik pasar wisatawan muslim China ke Aceh. Bahkan dari India pun bisa hanya 3 jam saja, " katanya.
Untuk pengembangan pariwisata, Arief Yahya menyarankan agar Pemerintah Provinsi Aceh mengajukan Kawasan Ekonomi Khusus ( KEK) atau Badan Otorita. Dengan status tersebut, maka akan mendapatkan dukungan pembangunan infrastuktur berupa jalan,air,lisrrik dan internet, termasuk bandar udaranya. Kalau sudah terbangun, maka perekomian di kawasan tersebut akan cepat berkembang.
Peningkatan kedatangan wisatawan ke Aceh tiap tahun berkembang sangat cepat. Tahun 2018 tercatat ada 2,5 juta wisatawan Nusantara dan 103.000 wisatawan mancanegara. Tahun ini ditargetkan akan kedatangan 2,7 wisatawan Nusantara dan 150.000 wisatawan Mancanegara.