PATA ( Pacific Asia Travel Association) akan mengadakan PATA Travel Mart 2016 di Indonesia. Kegiatan tersebut akan berlangsung pada tanggal 7-9 September 2016 di Indonesia Convention Exhibition ( ICE) di kawasan Serpong ( BSD City), Banten.
The 39th PATA Travel Mart ini diadakan oleh PATA Chapter Indonesia. Dengan dukungan Kementerian Pariwisata, akan dihadiri oleh 1000 orang dari 30 negara." Acara yang bersifat B to B ini merupakan kesempatan untuk pelaku usaha pariwisata untuk meraih peluang , menjalin hubungan baik dan kerja sama antar sesama pelaku di industri pariwisata khusunya di kawasan Asia Pasifik, " ujar Purnomo, Presiden Direktur PATA Indonesia.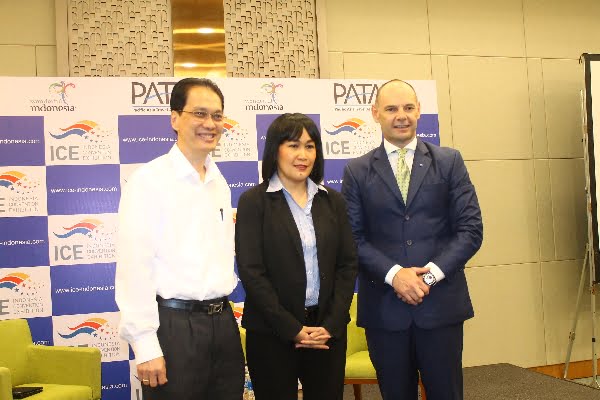 Kegiatan yang akan dilakukan tidak hanya sekedar pameran, namun juga akan ada seminar-seminar, workshop table top dan incentive atau tour ke berbagai lokasi wisata di Seputar Banten. Mulai dari Kawasan Gunung Krakatau, Ujung Kulon, Kawasan Banten Lama, Desa Badui / Kanekes, Kota Tangerang, Tanjung Lesung dan masih banyak lagi.
Indonesia juga akan menampilkan produk-produk wisatanya. " Tiga puluh persen peserta akan diisi oleh peserta dari Indonesia, " ujar Purnomo. Mulai dari provinsi Jawa Timur, Bali, ASITA, PHRI dan masih banyak lagi.
ICE BSD sebagai tempat pameran akan menyediakan Nusantara Hall dengan luas area sebesar 50.000 m2. Untuk akomodasi dan transportasi, hotel-hotel di sekitar kawasan Serpong, Bintaro hingga Karawaci siap menampung 1000 peserta, serta disediakan shuttle bus dari hotel-hotel tersebut dengan mudah mencapai tempat pameran.
Sumber foto : https://ice-indonesia.com/