Untuk menyambut musim semi tahun ini, mulai 5 Maret – 6 Mei 2019, Starbucks mengundang pecinta kopi untuk menikmati berbagai minuman baru yang diantaranya; Cascara Macchiato, Matcha Azuki Blossom Crème Frappuccino®, dan Iced Caramel Macchiato yang merupakan minuman favorit sepanjang masa yang diracik oleh barista terampil di Starbucks. Ketiganya terbuat dari bahan-bahan terbaik; mulai dari biji kopi hingga bubuk teh hijau pilihan (bubuk matcha).
Art in a Cup mengaja pelanggannya diundang untuk bereksplor lebih jauh pada Art in a Cup melalui berbagai keseruan digital yang menyenangkan. "Kami terus berinovasi dari waktu ke waktu menyediakan minuman untuk menggugah selera Anda dengan cara baru. Dan lini minuman Art in a Cup bertujuan agar peminum kopi dapat merasakan citarasa modern yang terbuat dari bahan-bahan terbaik yang dipadukan dengan Starbucks signature espresso roast", ujar Anthony Cottan, direktur, Starbucks Indonesia. "Selain itu, komitmen kami kepada petani kopi di Indonesia adalah dengan menanam 1 pohon kopi dari setiap penjualan 10 minuman yang akan disumbangkan ke perkebunan kopi di Bali", tambah Anthony.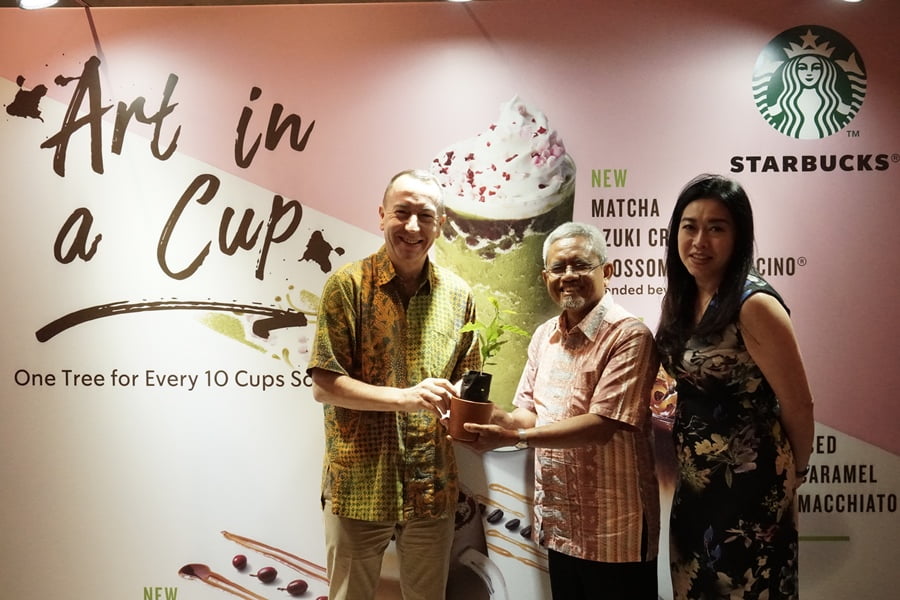 DAMPAK ART IN A CUP
"Mewakili teman-teman petani kopi di Sumatra, saya ingin mengucapkan terima kasih atas sumbangan berupa 330,000 benih kopi yang diberikan melalui kampanye Art in a Cup tahun lalu. Lebih dari 350 keluarga petani telah menerima manfaatnya. Pohon kopi ini ditanam sesuai dengan Coffee and Farming Equity (C.A.F.E.) Practice untuk memastikan pohon tersebut ditanam secara etis dan bertanggung jawab. Sungguh sangat menyentuh dan menggembirakan melihat komitmen Starbucks Indonesia yang berkelanjutan dalam membantu petani kopi melalui kampanye ini ", ujar Surip Mawardi, general manager, Starbucks Farmers Support Center (FSC).
Melalui Starbucks Farmers Support Center, petani juga menerima pelatihan bagi petani lokal yang bertujuan untuk membekali mereka dengan membantu menurunkan biaya produksi, pencegahan hama dan penyakit, meningkatkan kualitas kopi sesuai dengan standar Coffee and Farming Equity (C.A.F.E.) Practices dan meningkatkan hasil kopi yang premium", tambah Surip.
Sejak tahun 1971, Starbucks hanya menanam dan mengolah kopi Arabica terbaik yang ditanam secara etis sesuai C.A.F.E Practices dengan memberdayakan petani-petani lokal melalui Starbucks Farmers Support Center. Kampanye Art in a Cup diperkenalkan pada 2018 untuk menunjukkan komitmen Starbucks pada dunia kopi juga kepada petani kopi di Indonesia. Tahun lalu, 330.000 pohon kopi telah disumbangkan ke petani kopi Sumatra.