Selama lebih dari satu dekade, Starbucks telah menjadi tempat ketiga bagi jutaan pelanggan di Indonesia. Tentunya, mereka datang ke Starbucks tidak hanya untuk menikmati secangkir kopi. Mulai dari sekedar meeting, berkumpul, bekerja, sampai dengan bertemu teman, gelas Starbucks menjadi kanvas yang mengabadikan sejuta cerita dan momen bermakna yang tertuang di dalamnya.
Sudah tak terhitung lagi kisah unik untuk dibagikan dari segelas Starbucks. Begitu banyak momen unik dan inspiratif yang terjadi di Starbucks dan Starbucks ingin berbagi cerita tersebut melalui Starbucks Cup of Stories.
"Percakapan hangat yang terjadi di Starbucks senantiasa membangun momen kebersamaan dan cerita yang berkesan. Ikatan kami dengan pelanggan dimulai dari momen mereka menikmati secangkir kopi di gerai kami sampai kemanapun mereka membawa segelas Starbucks. Inilah yang membuat Starbucks dan pelanggannya selalu memiliki cerita penuh warna," kata Liryawati, chief marketing officer, Starbucks Indonesia.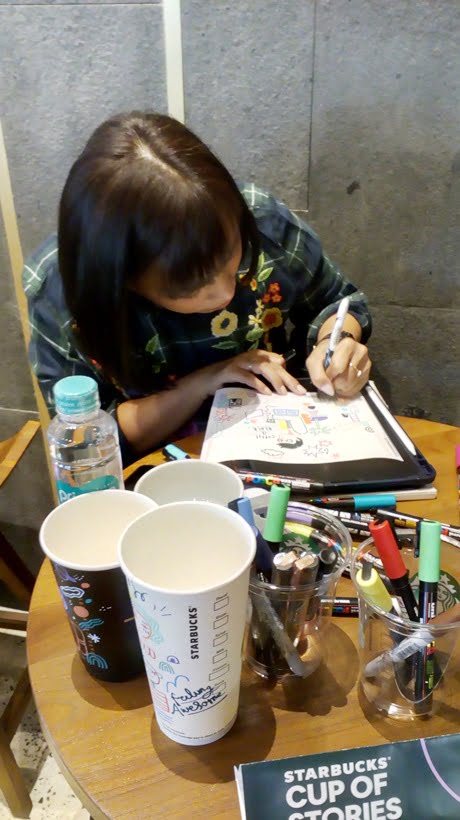 "Banyak sekali cerita hebat yang terjadi disini dan kami ingin membuatnya lebih hidup. Untuk menyemarakkan kampanye ini, Starbucks menggandeng empat ilustrator muda dengan semangat yang sama dengan Starbucks. Mereka adalah Muklay, Dinda Puspitasari, Sarkodit, dan Citra Marina. Karya mereka menggambarkan semangat optimisme, unik dan penuh warna. Cukup membeli minuman hingga 9 September 2019, lalu scan QR code pada gelas Anda untuk mendapatkan stikernya dan kupon khusus," Liryawati menambahkan.
Setiap cerita yang tertuang pada segelas Starbucks memiliki kekuatan untuk mempererat satu sama lain. Starbucks Cup of Stories mencerminkan misi Starbucks untuk selalu menginspirasi dan memelihara semangat kebersamaan — one person, one cup, and one neighborhood at a time. Kami begitu antusias untuk melihat bagaimana Starbucks Cup of Stories ini akan menjadi penyemangat bagi sesama untuk berbagi cerita dan memiliki hubungan dengan Starbucks", tutup Liryawati.